Enameled flue pipe programme - Steel sheet 0.40 mm / 0.60 mm / 1.20 mm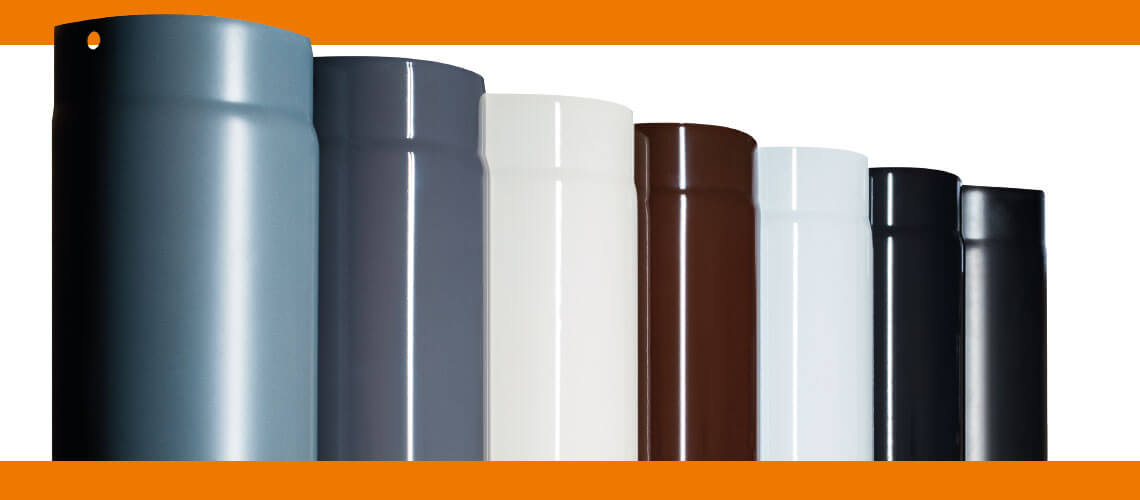 We have one of the most modern lines for enameling flue pipes in Europe. We also work with liquid and powder enamel, and have a wide range of flat or glossy paints, and can satisfy all the customer's demands. Enameled flue pipe elements are made of steel sheets coated with vitreous enamel. They have increased resistance to corrosion and stand out with their design and look. They also have a thermal resistance of up to 600°C, while flue pipes with a silicone seal installed at the end joint have a thermal resistance of 200°C.
Enameled steel flue pipe elements are made of high-quality sheet metal with a thickness ranging from 0.4 and 0.6 to 1.2 mm. The elements are enameled on both sides, ensuring a longer service life and easier maintenance. During the manufacturing process, coils of sheet metal are flattened and cut into sheets, which are then cut into developed shapes by hydraulic shears that automatically stack the finished product.

Developed shapes are circularly shaped by automated rollers, with optimal geometric tolerance after mechanical joining or welding. The calibration of joints is made by high precision hydraulic calibrators, ensuring tightness of joints. The surfaces are prepared for enameling in baths, for which an optimal concentration of treatment agents is used as well as optimal length and speed of movement through the surface preparation line.

As in other manufacturing processes, due to our highly developed ecological conscience, during the process of preparing surfaces for enameling we take care to use agents which are environmentally friendly. After preparing the surfaces, all the elements are dried during a programmed process, and, after the enameling material is robotically applied, are baked at optimal temperature for a programmed duration, which guarantees a long service life and esthetic consistency.

Enameled flue pipe elements are most often manufactured in a basic palette of colors such as white, brown, black and grey, with a glossy or flat finish. The whole procedure of preparing and enameling flue pipe elements is done by automated processes and with the most modern technology, allowing us to meet the market demands in the shortest time period possible. After the enameling process, elements are cooled at optimal speed, packed individually with the technical and sales documentation, and prepared for storage at a warehouse with an automated rack storage system, on euro palettes of a maximum height of 2.6 meters.

The range of enameled flue pipe elements supports connecting the firebox to the chimney in most situations which occur in households: whatever the distance of the firebox from the chimney, height of the chimney opening, horizontal displacement of the firebox connection in relation to the chimney opening, connection at 90° or 45°, and the esthetic covering of the chimney opening with a flat, angled or ellipsoid rosettes. The chimney opening can be covered with a rosette, whether at the chimney's flat surface, in the outer corner of the chimney or the inside connection of the wall and the chimney.